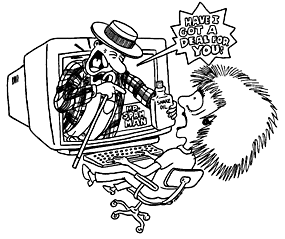 SPAM
Each day, I visit my email inboxes and delete, on average, between 150 - 500 emails a day. A DAY! It's such a waste of time.
Why does spam exist? Don't these marketing geniuses realize that most people, 99% it seems, DON'T read their messages.
Who has a solution that will eliminate spam forever?
Below is a random sample of the goodies that populate my emailbox.
******************************************************
Start Winning Today
Bidz.com is an Online Auction House. We offer thousands of items to choose from all with a starting bid of $1! Whether you are looking for a diamond ring, a watch for a loved one, a computer for your kid, of just like to collect, you can find it here... Always starting at $1! Discover Bidz.com and Start Winning Today!
Copyright 2003 Bidz.com, Inc. All Rights Reserved. Trademarks and brands designated are the property of their respective owners. Bidz and the Bidz logo are trademarks of Bidz.com Inc.
*********************************************************
Think the only place that ordinary people actually make big money online is in fantasyland?
Think again!
We've empowered individuals from all over the world to earn Multiple Streams of Internet income from their homes!
It's REAL, It WORKS, and we have over 800 testimonials in our Member's Area that prove it!
Wanna test it out for yourself?
***********************************************************
4 COMPLIMENTARY AIRLINE TICKETS!
You'll also join the many thousands who enjoy unbeatable savings, with a 15-day trial in Member's Edge Premier Choice Benefits®, where you'll save big on all your shopping needs. Get savings up to 50% GUARANTEED, on over 500,000 brand name products, including prescription drugs, eyewear, car products, cds, dvds, and thousands more...
Offer valid only for
MALA
Choose from just some of the exciting destinations below:
• Orlando • New Orleans
• Las Vegas • Los Angeles
• Hawaii • Bahamas
Act Now! Get 4 COMPLIMENTARY Round-trip airline tickets - while supplies last!
CLICK HERE to claim your 4 COMPLIMENTARY airline tickets. Take advantage of this 4 COMPLIMENTARY Airline Ticket Offer, and save big whenever you shop with Member's Edge Premier Choice Benefits®. The 4 AIRLINE TICKET offer is yours to keep just for trying Member's Edge Premier Choice Benefits®!
This is a Limited Time Offer while supplies last. CLICK HERE NOW!
*****************************************************